This is a course to help you understand and use effectively the basic functionality of WordPress 4.
WordPress 4 is an advanced CRM (Content Managing System) and an integrated online publishing platform suitable for the needs of every business.
The goal of this course is to make you able to learn how to create your first WordPress site in 24 hours or less, by unlocking the power of WordPress with these easy to follow step-by-step videos (even if you don't have a technical bone in your body).
If you've always wanted to be a master at WordPress...

...or at least get your first site up and running...

...but you don't know where to start...

...then this will be the most important page you ever read. 
Most people want to set up quickly and easily a WordPress site either for business or for personal reasons.
They want to learn the basic skills and knowledge for:
getting a site up and running fast,
posting content,
adding pictures and videos,
linking to things,
having a good looking site he could be proud of.
You can start telling them about how to create a database, download WordPress package, upload WordPress via FTP, or about SEO, plugins, themes, etc. but it is possible to get them bored and let them unable to do what the want more: to set up and run a WordPress site without the technical expertise and without too much hustle.
That's why I developed this course! To provide in an easy and understandable way all the things you need to know about setting up and running a WordPress site. The course is comprised of a quiz, 11 easy to understand WordPress tutorial videos and several discussion modules to help you grasp and employ quickly the knowledge you are going to acquire.
These are the most basic and easy to follow WordPress videos you will ever watch.

They are designed to get you up and running fast.

After you watch these videos, you'll know how to operate a WordPress site.

Plain and simple.

Nothing complicated.
You'll Have Your WordPress Site and Your 1st Post Up TODAY
In these 11 over the shoulder videos, you'll discover:
Why You Should Be Using WordPress
2 Ways To Install WordPress Easily
Getting To Know The WordPress Dashboard
How To Configure WordPress Quickly
What Plugins Are and How To Use Them
How to insert hyperlinks into your content
How to find and install plugins on your WordPress site
How to add a YouTube video to your content page
How to set Permalinks for your site
How to set your General Settings
How To Make Your Site Look Great with Themes
How to add new users to your site
How to add new categories
How To Setup Categories and Tags
How To Use Widgets and Menus
To Get Your First WordPress Site Up and Running Within 24 Hours From Now... 
Step #1: Stop everything you're doing and get this course now.
Step #2: Attend this course following the steps have been prescribed and start taking notes watching the tutorials or discussing with other learners.
Step #3: By the time you're doing watching the videos and finishing the course, you'll know everything you need to know to get a site up and running using WordPress.
1

How much do you know about WordPress?

Why You Should Be Using WordPress

Do you think you can use WordPress for your business?

2

Install The WordPress Easily

02. Install WordPress Easily I

03. Install WordPress Easily II

Problems with WordPress Installation

3

04. The WordPress Dashboard

Questions about the WP Dashboard

4

05. Configure The WordPress Quickly

WP Configuration issues!

5

06. Plugins

WordPress Plugins

6

07. Pages + Posts

How do you develop Pages and Posts in WP

7

08. Categories + Tags

How would you use categories and tags in WP?

8

Pictures + Videos in WordPress

09. Add Pictures + Videos

Best ways to use Pictures and Video in WP

9

10. Themes in WordPress

Theme Usage in WP

10

11. Widgets + Menus

Widget and Menu Issues in WP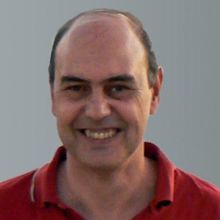 e-Business & e-Learning Consultant
Takis Athanassiou
Takis Athanassiou is an e-Business and e-Learning Consultant located in Athens, Greece.
He has been involved in major e-Business, e-Learning, and research projects in Greece and in the EU, focusing in the areas of strategy, human resources and development, business management and operations, eLearning, just-in-time, blended and tradition learning, instructional design, social media & networks, multimedia, management information systems and IT Services, marketing & sales, etc.
Today he is operating in the area of IT & Learning consulting, while he is focusing on subjects relating to leadership, productivity & effectiveness, training, and small business marketing!
What people have been saying about Takis Athanassiou:
"Takis Athanassiou is an e-Business and e-Learning consultant who empowers managers, executives, and business owners by sharing his best methods, ideas, and approaches for driving success. Takis shares tools, stories, and inspiration for leaders on his blog by using a specialized mindset based on leadership and strategy principles, personal growth directives, business-proven practices, and training activities."
Top 25 Leadership Blogs for Small Businesses
"Takis Athanassiou is an e-Business & e-Learning consultant who writes about building a meaningful life. His blog posts are very personalized and focus on how to use your own strengths to become better in every aspect of life and succeed in every field you choose. His ideas about personal development are astounding and groundbreaking."
Top 40 Personal Development and Leadership Blogs
"Successfully running a business takes more than a great product. Knowing how to lead and communicate with the people you work with is just as important. But what if you're not born with the leadership skills and communication savvy that moves masses? Fortunately, these skills can be learned and improved just like any other – and Takis Athanassiou shows us how."
Do you want to create your first WordPress site in 24 hours or less even if you don't have any technical skill? Do you want to unlock and leverage the power of WordPress for your purposes in an easy and effective way? Then you should take this course, TODAY!